Black Pot's home meal deliveries are ideal for quick and delicious family meals. They're also great for entertaining, where you want a special dinner that's stress free and easy to prepare.

On alternate Thursdays (usually - previously every week but we've had to scale back to make time for events!) we bring you a new menu of lovingly handmade dishes using seasonal, sustainable ingredients. We offer family friendly favourites and dishes for special dinners or entertaining with vegetarian options, canapés, dips and yummy desserts. Many can be easily frozen at home. Allergens are labelled, simple instructions included, and we offer versions without dairy, animal products or gluten where possible.

Everything is prepared in our five star hygiene rated kitchen with the utmost attention to health and safety as well as deliciousness. Deliveries are contactless to protect you and our staff.


New menus are sent out on alternate Fridays. Sign up here to receive them direct to your inbox or view our current menu below. Place your order by Monday for delivery the following Thursday on alternate weeks (dates below) between 11-3.30pm. Currently we deliver to: NW2, NW3, NW5, NW6, NW8, NW10, NW11, N6, N19, W9, N1, and now W11 too! Please ask if your postcode isn't here, we will do our best to help! We request a minimum order of £50 plus £5 delivery.
BLACK POT MEAL DELIVERIES: Next delivery Thursday 19 May
Please order by Monday 16 May
Good for home freezing.   Roast aubergine slices layered with tomato sauce, mozzarella, parmesan and basil. Just finish in the oven.
Good for home freezing. Minced pasture fed lamb patties with middle eastern spices, herbs & garlic and a pot of tangy tahini sauce.   Lightly chargrilled by us, finish in the oven or on the barbecue.
Good for home freezing.   Nutty bulgur wheat with sweet onion, fresh herbs and peas.
Good for home freezing.   For those of you avoiding wheat! Basmati rice cooked with sweet onion, fresh herbs and peas.
Seasonal delight! English asparagus stems (a decent serving, we promise) lightly blanched and dressed in olive oil with a pot of lemony brown butter and hazelnut dressing.   Warm the asparagus or serve cold, melt the brown butter and pour over.
Gem leaves, new season's broad beans, pea shoots, mint and shaved pecorino cheese, with balsamic dressing.
Super creamy whipped cod roe with lemon, garlic and olive oil. With crispy toasts.
Good for home freezing. Classic tiramisu with marsala, coffee and mascarpone. Lighter than you'd think and always a treat. Topped with raspberries.
Frozen. Our famous fudgy chocolate brownies studded with white chocolate drops.

We still have a few portions left of the following frozen dishes which you are welcome to add to your order. Extras go fast! When you order online you can see which dishes are still available or sold out.

Frozen.  Prime fish mixed with potatoes, spring onions and herbs in a crisp crumb coating. Just finish in the oven. With our handmade tartare sauce.

Sent frozen. Chicken breast in coconut milk, lemongrass and green curry spices with Thai basil and green beans.
Sent frozen. Sweet potato, green beans and squash in coconut milk, lemongrass and green curry spices with Thai basil.
Frozen. Super cheesy and creamy, 99% gluten free mac n' cheese, made with GF pasta and GF flour. The cheese sauce uses a tiny amount of English mustard which contains a tiny amount of wheat, so not suitable for coeliacs but probably not an issue for anyone intolerant to wheat. Reduced - originally £16 and £32

Frozen.   A smooth, savoury green soup with a pot of crumbled stilton to stir through at the end.


Frozen. A smooth and delicious soup, one of our customer favourites


Frozen. Crisp puff pastry rolls with free range pork, herbs, onions & spices. Perfect for picnics, packed lunches, with drinks. Glazed with egg and sesame. Pre cooked, just warm in the oven.

Frozen. Made with olive oil, fresh oranges, polenta and ground almonds this cake works with tea or as a dessert. Try with Greek yoghurt and berries. Dairy and gluten free (contains eggs)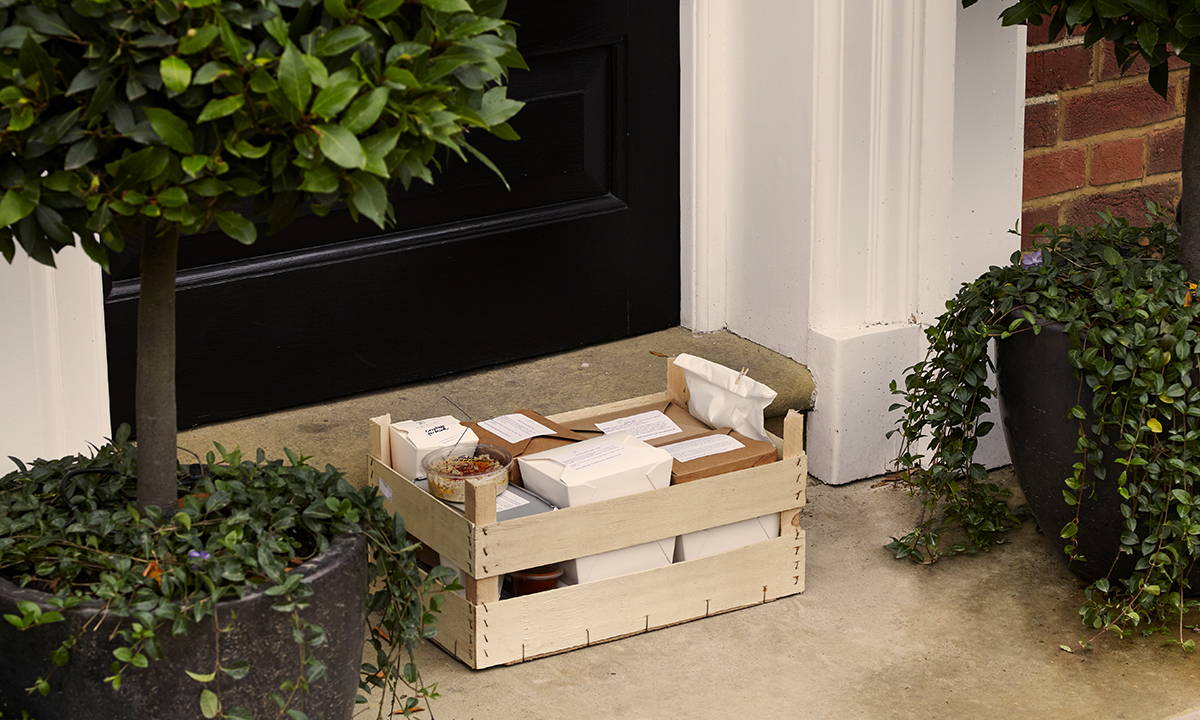 SIGN UP TO RECEIVE OUR WEEKLY MENUS
Get new menus sent direct to your inbox. Hassle free and at no obligation!