Black Pot's home meal deliveries are ideal for quick and delicious family meals. They're also great for entertaining, where you want a special dinner that's stress free and easy to prepare.

On alternate Thursdays (usually - we sometimes have to scale back to make time for events!) we bring you a new menu of lovingly handmade dishes using seasonal, sustainable ingredients. We offer family friendly favourites and dishes for special dinners or entertaining with vegetarian options, canapés, dips and yummy desserts. Many can be easily frozen at home. Allergens are labelled, simple instructions included, and we offer versions without dairy, animal products or gluten where possible.

Everything is prepared in our five star hygiene rated kitchen with the utmost attention to health and safety as well as deliciousness. Delivery is by our friendly driver and we can deliver contactless on request.


New menus are sent out on alternate Fridays. Sign up here to receive them direct to your inbox or view our current menu below. Place your order by Monday for delivery the following Thursday on alternate weeks (dates below) between 11-3.30pm. Currently we deliver to: NW2, NW3, NW5, NW6, NW8, NW10, NW11, N6, N19, W9, N1, and now W11 too! Please ask if your postcode isn't here, we will do our best to help! We request a minimum order of £50 plus £5 delivery.
BLACK POT MEAL DELIVERIES: Next delivery Friday 29 July
Please order by Monday 25 July
Good for home freezing.   Ready to roast free range chicken thighs in shawarma marinade, with a pot of harissa. Also great on the barbecue.
Good for home freezing.   Roast cauliflower steaks in shawarma marinade with herbed tahini dressing and toasted almonds, packed separately. Can also be finished on the barbecue.
Good for home freezing.   Yes, that rice with those onions.

Sweet melon with mixed leaves, feta and toasted pumpkin seeds. Wine vinegar and honey dressing.
The most refreshing summer salad we know.
A beautiful, sweeter and lighter version of traditional hummus.
This is great as part of a mezze spread - sweet and sour, tomatoey and herby bulgur wheat salad with pomegranate seeds and pomegranate molasses dressing. We send this with salad leaves, just place a spoonful of bulgur in each leaf and serve, or place in a bowl surrounded by the leaves.
Good for freezing The peaches at the moment are utterly delicious .. we cook them ever so lightly with dessert wine and vanilla, to serve with crisp almond tuiles. Try with a little Greek yoghurt if you like.
Frozen. Our famous fudgy chocolate brownies studded with white chocolate drops.

We still have a few portions left of the following frozen dishes which you are welcome to add to your order. Extras go fast! Here you can see which dishes are still available or sold out.

Frozen. Spinach, feta and herbs in crisp filo pastry with sesame seeds. Part baked, just crisp in the oven at home.  

Frozen.   Another riff on the spinach/ cheese theme - these crisp rolls are filled with ricotta and mature cheddar, with nutmeg and a little garlic.   Part baked, just crisp in the oven at home.  
Frozen.   Minced free range pork with sage, onion and spices in crisp puff pastry.   Part baked, just crisp in the oven at home.  

Moist almond cake with a citrus syrup, completely gluten free and uses olive oil rather than butter so dairy free too.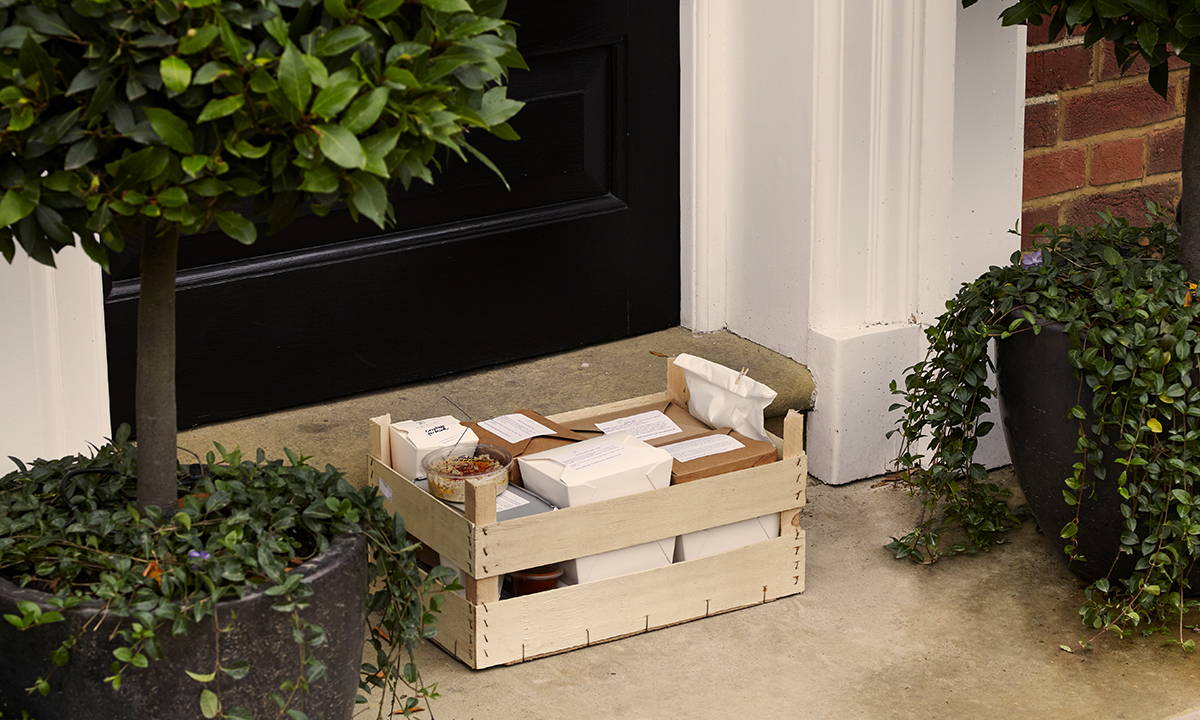 SIGN UP TO RECEIVE OUR WEEKLY MENUS
Get new menus sent direct to your inbox. Hassle free and at no obligation!