Black Pot's home meal deliveries are ideal for quick and delicious family meals. They're also great for entertaining, where you want a special dinner that's stress free and easy to prepare.

On alternate Thursdays (usually - we sometimes have to scale back or deliver on different days to make time for events!) we bring you a new menu of lovingly handmade dishes using seasonal, sustainable ingredients. We offer family friendly favourites and dishes for special dinners or entertaining with vegetarian options, canapés, dips and yummy desserts. Many can be easily frozen at home. Allergens are labelled, simple instructions included, and we offer versions without dairy, animal products or gluten where possible.

Everything is prepared in our five star hygiene rated kitchen with the utmost attention to health and safety as well as deliciousness. Delivery is by our friendly driver Steve and we can deliver contactless on request.


New menus are usually sent out on alternate Fridays. Sign up here to receive them direct to your inbox or view our current menu below. Place your order by Monday for delivery the following Thursday on alternate weeks (dates below) between 11-3.30pm. Currently we deliver to: NW2, NW3, NW5, NW6, NW8, NW10, NW11, N6, N19, W9, N1. Please ask if your postcode isn't here, we will do our best to help! We request a minimum order of £60 plus £6 delivery.

We still have a few portions left of the following frozen dishes which you are welcome to add to your order. Extras go fast! Here you can see which dishes are still available or sold out.

Introducing our new delivery line for the festive season, designed for your holiday entertaining. As an introductory offer for delivery customers, on 7 December you'll only need to meet our £60 order minimum (including anything else you've ordered) and delivery charges are as usual. After this, we will need to request £150 minimum order for canapés platters when ordered on their own.   Please note Canapés are supplied and priced in batches of 20.   Some may need simple finishing and / or heating, directions supplied.  

ABBREVIATIONS:
Dietaries: V=vegetarian, VG=vegan, GF=gluten free, DF=dairy free, NUTS=contains nuts, SES=contains sesame. P=contains pork.
None of our canapés (except Avruga caviar with the blini, alternative offered) contain shellfish. Please ask if you have other restrictions.
Storage: FRZ=freezable, FR1= fridge 1 day, FR2+= fridge 2-4 days
Prep/finishing: H=requires heating, H/C=serve hot or cold, C=serve cold. PREP=slightly more prep needed (but still simple)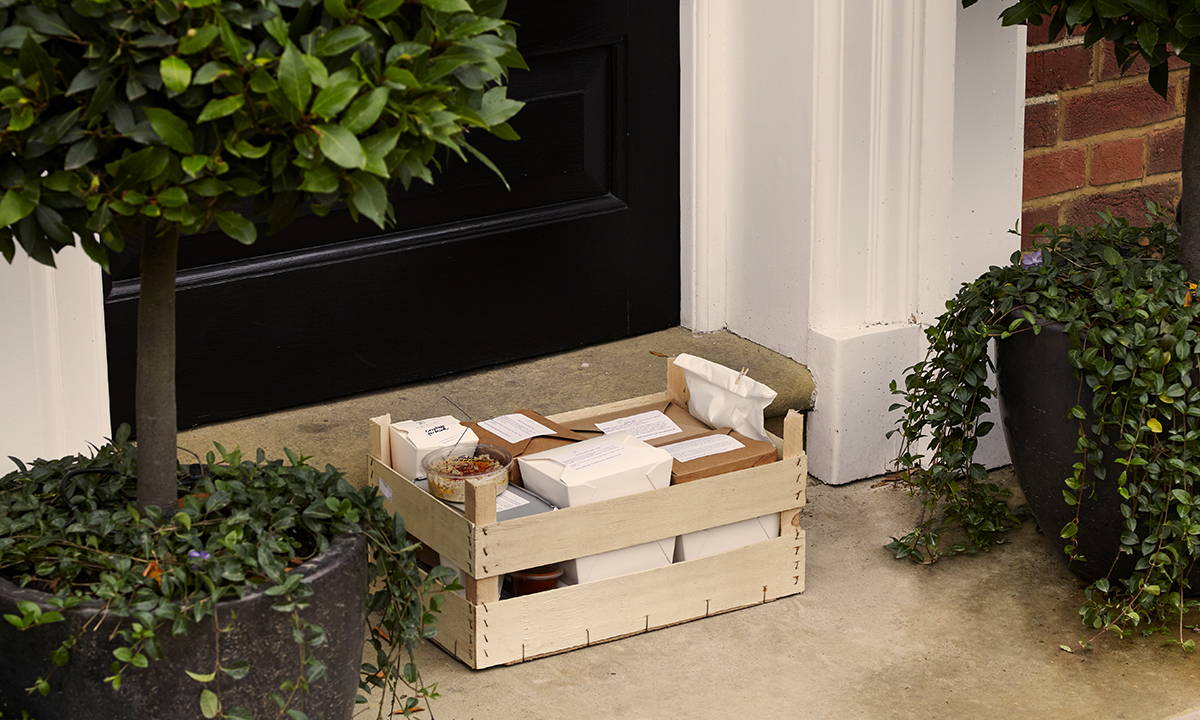 SIGN UP TO RECEIVE OUR WEEKLY MENUS
Get new menus sent direct to your inbox. Hassle free and at no obligation!